"BIG STRAW RACK" Expansion Ventiduct
"BIG STRAW RACK" Expansion Ventiduct
Approaching to generation source of powder dust at all times, collect dust efficiently before spreading around.
Ingesting dust with huge straw, achieve the consistency of less than 3mg/m³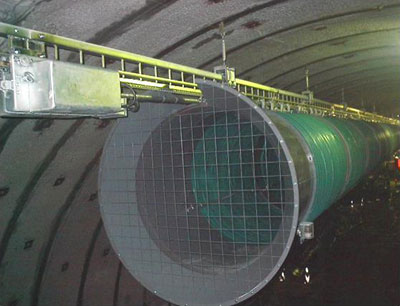 Brief overview
Nowadays in tunnel constructions, ventilation measures are required to make dust consistency where 50m away from the tunnel face less than 3mg/m³. However, it's hard to install ventilation system at the most of the field sites, so practically difficult to do it. We therefore develop this variable-length system moving the body to the dust discharging point to vacuum up directly as this make it possible.
Features
(1)Installing "BIG STRAW RACK" on the evacuation air blower or dust collector in the tunnel, the powder dust don't spread out. 
(2)Possible to choose smaller dust collector in capacity (It enables dust consistency to be less than 3mg/m³ so that the pit velocity of wind 3m/sec can be enough.)
Smooth adjusting the length (Free from interruption with expansion of inner pipe)
Power saving with small motor capacity
Spiral duct style
Adjust the length storing the inner pipe in the outer pipe with double structure of spiral air pipe

Ventiduct style
reinforce plastic with rings to not get crushed by the pressure of exhaustion. With specialty storing pipe, make adjusting smooth to adopt to curves and slopes.