Temporary enclosure rental tent
Temporary enclosure rental tent
For environmental measures
Soil improvement measures – normal type –
For ensuring airtightness, to prevent generation of dioxins, and for dust-proofing and deodorization measures.
A tent house fixed. We offer a wealth of size about frontage and depth to be available for variety types of the fields.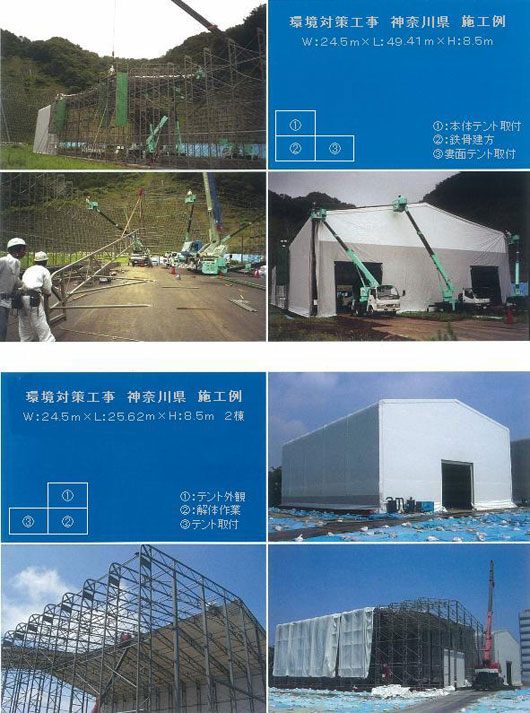 Roles of tent as measures for soil improvement
The main substance that occurs in soil pollution are tetrachlorethylene, trichlorethylene, cis-1, 2-dichloroethylene.Remove from the soil volatile organic compounds by stirring effect of hydration excavating the contaminated soil and, adding and mixing quicklime.
So that not let VOC gas and dust go out outdoors, cover the soil part with a temporary enclosure rental tent.By sucking in dust collector provided in the tent aides, keeping a negative pressure inside at all times, prevent the spread of VOC gas and dust.
Capturing dust by pre-filter and HEPA filter which is equipped with dust collector, purify the air in the tent. Of course, also take odor.
It is possible to match the tightness of the tent to the ability of the dust collector.
The relocation of the tent covers large site effectively

Movable tent house to chage the drilling sites in the broad area.
Easy to relocate by wrecker, and possible to shorten constiruction period and cut cost.
Size
Type
Width
Length
Eave height
Mini
4m・5m
1.83m×( )sp
3.2m
Little
6m・7m・8.5m
4.5m
Medium
10.5m・12m・14m・16m・18m
4.5m・6.5m
Large
19.5m・24.5m
5m *¹ ・6.5m・8.5m
Extra Large
30m・35m
6.5m
*1 Please contact us
Reference drawing
For Incinerator demolition
Temporary tent for measures of prevent dust spreading. Installing the H steel at framework scaffolding, conect the steel frame of the tent. Side is cured with chring sheet, and fence the roof of the tent. As the deapth 3.66m or 5.49m is a block, after installing the tent, setting up by a crane. Or, when the installation site is far it is possible to send back after installation at the front being wheel mobile type.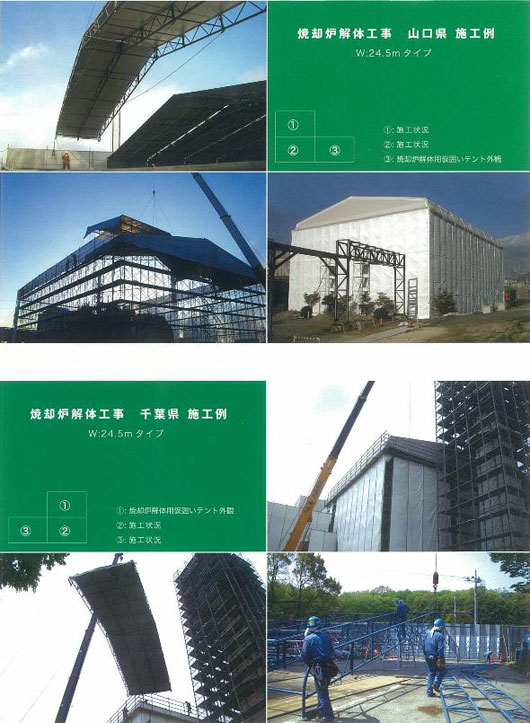 Roles of the tent for incinerator demolition
Diffusion of dust and dioxins to outdoors is concern. Nowadays has been increasing the cases to perform the demolition work covering whole of the construction site with a tent.
Same as for soil improvement, keeping a negative pressure inside at all times, prevent the spread of dust and dioxins.
Also as a temporary roof for any weather
Shorten the construction period and accurate and control the process being able to work without any chances depending on the weather.
Cost cut and improve the working environment.
Size
Type
Width
Length
Small
6m・7m・8.5m
Basic
5.49m
×( )Block
*4
Medium
10.5m・12m・14m・16m・18m
3.66m
 
Large
19.5m・24.5m
*4 During the block is 210mm〜250mm
Extra Large
30m・35m
Expansion type
Possible to carry out the work without being influenced by the weather in shield constructions. Easy to expand and move with weel equipments.
Size
Width
Length
Eave height
8.5m
1.5m×N
4m
10.5m
12.5m
15.5m
Hanging relocation type
Movable tent house.
Easy to move with wrecker and can cut cost, shorten the period of construction.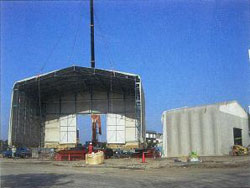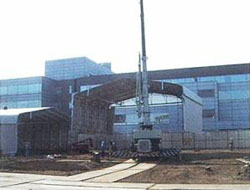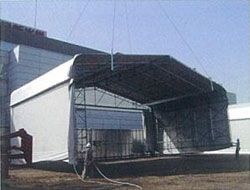 Size
Type
Width
Length
Eave height
M
10.5m・12m・14m・16m・18m
5.49m 3.66m×( )Brock*2
4.5m・6.5m
L
19.5m・24.5m
5m*3・6.5m・8.5m
*2 During the block is 210mm〜250mm
*3 Please contact us
Type pf foundations
Foundation for temporary tent. The weight is sevral tons, so can utilize at ease at places where the site status is poor or wind is strong like at the beach.
【 H-steel type 】

How to connect to H-steel pull the wire from the shoulder, or Set up instead of the basic H-steel, the attachment of the pillars on it.
※H400…200kg/m
【 Iron plate type 】

Set up a pillar on top of the iron plate, and welding.
※1524mm×3048mm×22t…800kg/p
※1524mm×6096mm×22t…1604kg/p
Provisions of the following does not apply for temporary building for construction work such as office to be provided at field sites or material storages
The exemption for the temporary building for construction work
Article 6
Verification and application for construction of a building
Article 6-2
Confirmation by a person who has received the designation of the Minister of Land, Infrastructure and Transport
Article 6-3
Exceptions to the confirmation about the architecture of the building
Article 7
Complete testing for buildings
Article 7-2
The complete inspection by the person who has received the designation of the Minister of Land, Infrastructure and Transport
Article 7-3
The intermediate survey on buildings
Article 7-4
An intermediate inspection by the person who has received the designation of the Minister of Land, Infrastructure and Transport
Article 7-5
Special case of testing for construction of buildings
Article 7-6
The restriction of the use of buildings issued before the certificate of inspection
Article 12 Section 1
Periodic Report survey of special building
Article 12 Section 2
Periodic inspection of special buildings such as the State
Article 15
Statistics and notification
Article 18
Check for the building of the State and the procedures for corrective action or inspection
Article 19
Health and safety of site
Article 21
Main structure of the large-scale building
Article 22
Structure limit of roof
Article 23
Structure limit of the outer wall
Article 26
Firewall of large-scale
Article 31
Toilet
Article 33
Lightning protection system
Article 34 Section 2
Installation of elevator in emergency
Article 35
The technical standards for fire fighting and evacuation of special building
Article 36
Necessary technical standards order to execute the provisions , or supplementing of Chapter 2
Article 37
Quality of building materials
Article 39
Disaster danger zone
Article 40
limit by ordinance of the local government
Chapter 3
Site of buildings in urban planning area within the structure, usage and building equipment
About a total area of quasi-fire area or fire area exceeds 50 square meters, the provisions of Article 63 law applies
Support to protect the environment by extensive experience with a variety of product
Example