Dust collector
Dust collector for cleaning Incinerator PiA-45U
environmental decontamination goods (rental)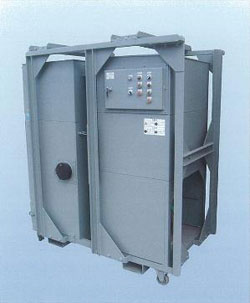 environmental decontamination goods (rental)
Performance and features
Castars equiped
Easy to move. Split type can be loaded on the elevator.
Pulse-jet method to brush dust off
(compression air backwashing)
Against Dioxins model
prefilter (Teflon-coated) + charcoal filter (dioxin removal)+HEPA filter (99.9% removal of 0.3μm grain)
Pack style
Hygienic (Can cast out dust without getting dirty on your hands)
Embedded compressor and inverter
Available whenever and wherever (Need to have only electric source)
Model
PiA−45U(all in one)
Electric source(V・Hz)
200V 50/60Hz
Power(kw)
2.2kw
Air flow(m³/min)
0
30
40
static pressure(KPa)
2.55
1.25
0.5
prefilter
material
polyester spunbond
Teflon-coated
square measure
13.5
number of filters
6
how to brush off
auto pulse-jet method
charcoal filter
material
activated charcoal filling
number of filters
1
HEPA filter
Size
(W×D×H)mm
610×610×290
number of filters
1
amount of consumption of compression air
(liter/min)
30
bucket capacity
18liter×2
How to eject dust
Pack style
power code
17m
suction opening (diameter/mm)
φ150
Size
(W×D×H)mm
※2
Body/filter
1700×1100×2000
separate placement fan
−
Weight
530kg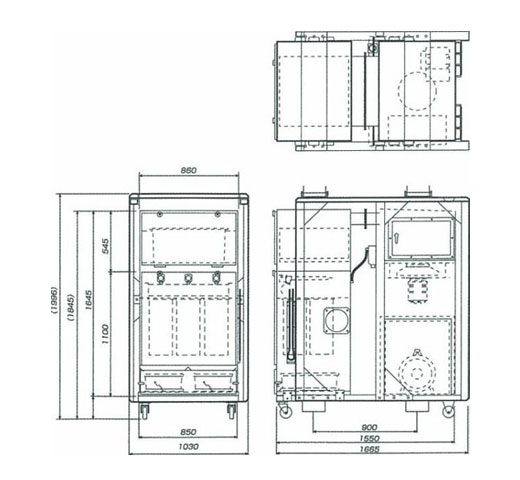 instructions and directions for use
Do not vacuum up material objects below
Flammable substance petrol, thinner, benzin, heating oil, coating material etc.
Explodability dust aluminum, magnesium, titanium, zinc, epoxy etc.
Dust with involvement of spark from high-speed cutting machine, grinder, welding machine etc.
Fire cigarette butts, ash etc.
The others water, oil, chemicals
Do not use at places where fog, smoke and gas of flammable, explosible and caustic materials remain
Make sure to connect the earth terminal for protection against electric shock.
Please feel free to ask about dust collector as safety apparatus of dust explosion to aspirate explosible dust.
Surely install a pre-dust box to aspirate dust with involvement of spark in cutting metal works etc.
Please let us know before selecting a machine when would aspirate spark in works such as abrasive operation.
Utilize backet made of iron steel when you use control filters.
Install ductwork in such a way that is appropriate dust collection condition with suitable ductwork and by the most direct way not drooping to avoid standing dust.