BY・FAR Z-M
Detergent of secondary oil dispersion pollution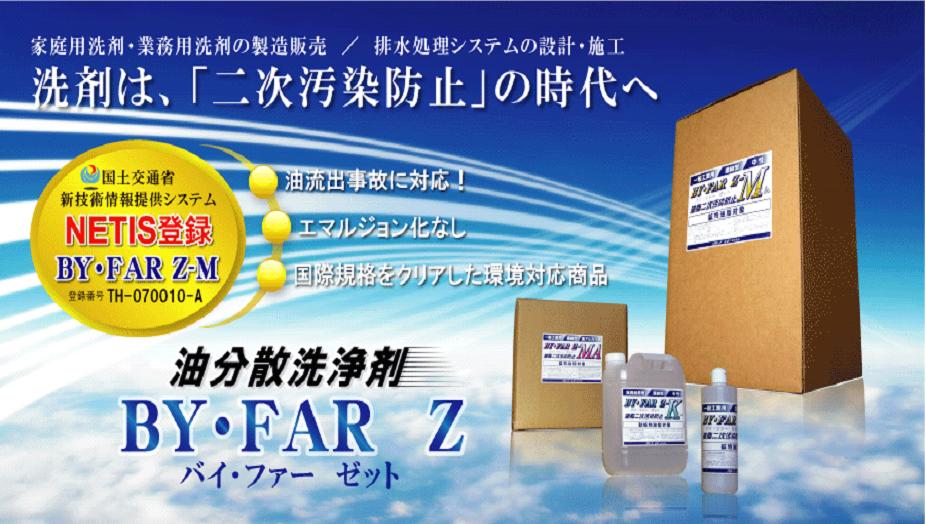 Effective in the prevention of water pollution and soil contamination
Reattachment or oil balls will not occur by hydrolysis of oil into fine particles.
Dilution type ( 5-10 times ) so that you will reduce costs.
Because of the water-based detergent , there is no limit of stockpile on the fire law.
77% or more biodegradability by OECD standards in DOC method( Japan Food Research Laboratories )( 5.5% surfactant)
Finely divided oil particles by BY・FAR Z become small as the microorganisms are easily decomposed, it reduces the degradation time.
By proceeding decomposition efficiently , prevent cross-contamination of oil.
Use at a dilution of an appropriate amount.
Water that can be used , do not choose the environment and places or the quality such as soft water , hard water , sea water , and mud .
If it is viscosity like grease oil , temperature of about 60 ℃ is effective .

【BY・FAR Z】
|   | BY・FAR Z-M | BY・FAR Z-M |
| --- | --- | --- |
| Quantity | 4L | 18L |