KANKYO-ACE D1
Features
"KANKYO-ACE D1" is a one-pack type flocculant with high-performance that dissolved an aqueous solution by special amphoteric polymer.
You can shorten the construction time because it is easy to mix as compared to the conventional flocculant, sedimentation rate is also much faster.
In addition, can measure the efficiency of the management in the field and economical without a need to adjust pH.
Usage
Processing of construction sludge containing cement by CJG and SMW method.
Underground turbid water treatment associated with shield construction.
Alkaline waste water with dam and tunnel construction and processing of turbid water.
Waste water treatment for core drilling, wire cutter, and high pressure cleaning etc.
Additive amount typical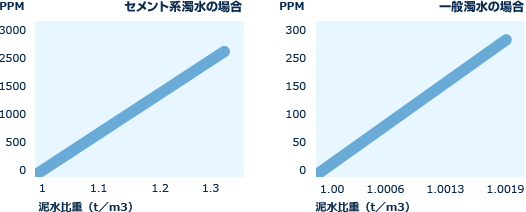 ※Addition amount varies depending on the soil of the site, so please decide the amount after a jar test in a beaker or so before construction.
Properties
| | |
| --- | --- |
| Apperance | Clear liquid |
| Specific gravity | 1.2 |
| pH | Neutral |
| Viscosity | 600CP(20℃) |
| Smell | None |
Result of analysis
Total chromium, cadmium, cyan
Lead, arsenic, total mercury, PCB
It was not detected above all
Packing
Solvent solution: 20k in a cardboard
(Interior molding Baron box)
Handling Precautions
Please read "Material Safety Data Sheet" (MSDS) before use.
This product is an industrial chemical. Wear protective gloves, protective goggles, protective mask, and please do not touch with hands directly.
Please wash thoroughly with fresh water if accidentally it gets into your eyes or mouth, or contact with your skin. If there is pain after washed with water, please consult a doctor.
Please wash off if the products attach to garments.
Please do not use it for a beverage container after use.