Axial Fans
"BIG LOG" (Variable pitch axial fans)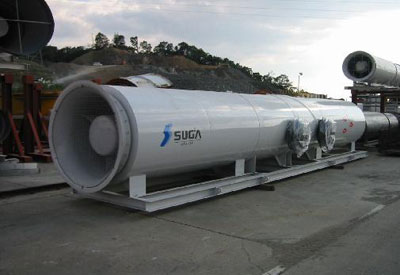 This is a blower that changes the angle of blade as appropriate to control wind volume.(Lower left)
Less pressure fluctuation even when decreased the volume so that secure broad work space.(Lower right)
For instance, when needed to make the curve of ventiduct or radius of ventiduct smaller for being of centring or soundproof wall in tunnel, may be increased unanticipated pressure loss and may lapse into stall point.
With inverter control, unable to recover because of air volume and pressure, however, with variable pitch control can do it reducing air volume a little. 
Especially in the long reach tunnel, we recommend this to make your work easier with features above, and more to save cost installing appropriate radius of ventiduct.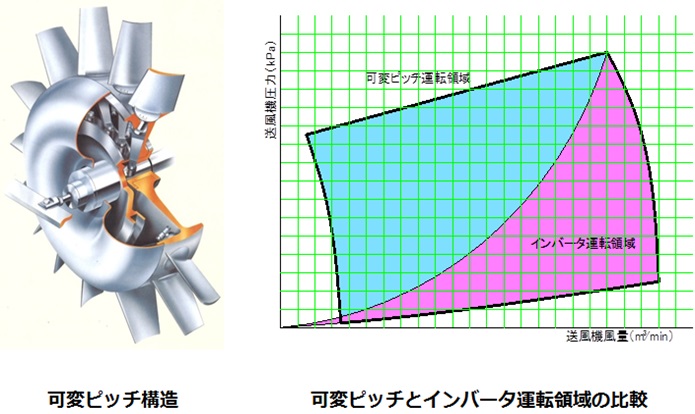 Feature
Acceptable to ventilate for the operarion with only one button switching air volume in 3 levels.
Checking the situation of work, possible to foresee the needs of expanding of ventiduct.
No waste of electricity conditioning voltage loss to air pipe resistance automatically.
With star‐delta starting and variable-control, higher harmonics wave won't flow out.
Quiet enough to talk next to this body, needless to care much about environment in the tunnel and ambient surroundings.
Specification
Type auto variability
Type
Ability
Power
Noise level
1.5m at machine side
5m at machine side
CDH1120-30-60(4)W
1000m³/min×3.92/4.9kPa
1500m³/min×3.5/2.6kPa
60kW×4P×2
50/60Hz 400/440V
85dB
74dB
CDH1250-26-80(4)W
1500m³/min×3.92/4.9kPa
2000m³/min×1.76/1.76kPa
80kW×4P×2
50/60Hz 400/440V
85dB
74dB
CDH1250-26-110(4)W
2000m³/min×4.11/4.9kPa
3000m³/min×1.8/2.45kPa
110kW×4P×2
50/60Hz 400/440V
85dB
74dB
CDH1400-30-175(4)W
3000m³/min×4.6/4.9kPa
175kW×4P×2
50/60Hz 400/440V
88dB
77dB
Type manual variability
Type
Ability
Power
Noise level
1.5m at machine side
5m at machine side
CDH1000-26-55(4)S
1000m³/min×1.76/2.35kPa
55kW×4P×1
50/60Hz 400/440V
82dB
71dB
CDH1000-26-60(4)S
1000m³/min×1.76/2.35kPa
60kW×4P×1
50/60Hz 400/440V
82dB
71dB
CDH1250-26-80(4)S
1500m³/min×1.96/2.45kPa
2000m³/min×1.77/1.77kPa
80kW×4P×1
50/60Hz 400/440V
83dB
72dB
Size

| Type | A | B | C | D | E | F | G | Weight kg |
| --- | --- | --- | --- | --- | --- | --- | --- | --- |
| CDH1120-30-60(4)W | 8,400 | 8,220 | 1,120 | 1,500 | 2,081 | 1,600 | 1,700 | 5,000 |
| CDH1250-26-80(4)W | 9,250 | 9,000 | 1,250 | 1,660 | 2,211 | 1,800 | 1,865 | 5,100 |
| CDH1250-26-110(4)W | 9,250 | 9,000 | 1,250 | 1,660 | 2,211 | 1,800 | 1,865 | 5,100 |
| CDH1250-26-175(4)W | 10,400 | 10,150 | 1,400 | 1,860 | 2,411 | 2,150 | 2,040 | 9,000 |
| CDH1000-26-55(4)S | 5,300 | 5,100 | 1,000 | 1,340 | 1,787 | 1,650 | 1,550 | 1,900 |
| CDH1000-26-60(4)S | 5,300 | 5,100 | 1,000 | 1,340 | 1,787 | 1,650 | 1,550 | 1,900 |
| CDH1250-26-80(4)S | 6,500 | 6,250 | 1,250 | 1,660 | 2,087 | 1,800 | 1,865 | 3,700 |